Don't miss PCEI's 12th Annual Animals of the Night, one of the most popular autumn events on the Palouse! Join us from 5pm to 8pm on Friday, October 25th at the PCEI Nature Center. The event will feature live animals, interactive exhibits, face painting and crafts, as well as a campfire and music. Enjoy s'mores by the fire and Wilson Banner Ranch hot cider (by donation). Tacos and beer will be available for purchase from Hunga Dunga Brewing Company. All contributions directly benefit the continued work of PCEI's education program.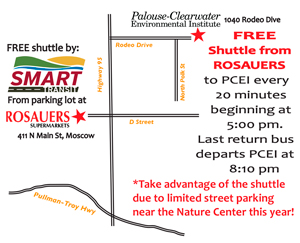 NEW THIS YEAR: Take advantage of the free SMART Transit shuttle from Rosauers' parking lot to the PCEI Nature Center as there is limited on-street parking near the Nature Center this year. The first shuttle leaves Rosauers' parking lot every 20 minutes starting at 5:00pm. The last return bus departs PCEI at 8:10pm.
Follow us on Facebook for updates! If you have any questions, please contact us at learning@pcei.org or 208.882.1444.
Thank You!
Animals of the Night would not be possible without the support of the following volunteers, organizations and sponsors:
Insects: Abbey Hayes (WSU Entomology Graduate Student Association) & Stacey Rice (UI Aldrich Entomology Club)
Reptiles and Amphibians: Madelyn Kirsch (WSU Brunner Lab)
Canines/ Felines: Jeremy Heft (Wolf Education and Research Center)
Bats: Johnna Eilers (WSU Brunner Lab)
Beavers: WSU Wildlife Society
Skunks/Raccoons: Jen Bruns (Idaho Department of Fish and Game)
Raptors: WSU Raptor Club
Children's Activities: Darci Deaton (Palouse Roots) and PCEI Board Members
Food & Recycling Service: WSU Circle K
Parking: PCEI Board Members
Fire Pit: Brett Deaton & Brian Bell
Membership Table: PCEI Board Members
Greeter: Margo Glidner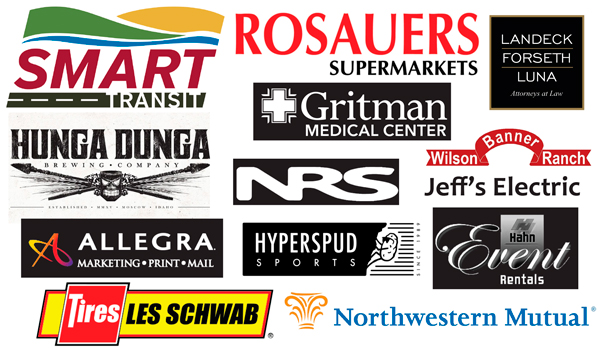 Smart Transit – Rosauers Supermarket – Gritman Medical Center – Wilson Banner Ranch – Hunga Dunga Brewing Company – Allegra Marketing Print Mail – Jeremy Tamsen – Jeff's Electric – NRS – Hyperspud Sports – Martin Trail, Financial Advisor, Northwestern Mutual – Hahn Event Rentals – Landeck Forseth Luna – Les Schwab Tire Center
Photo Albums