Learn More About AmeriCorps!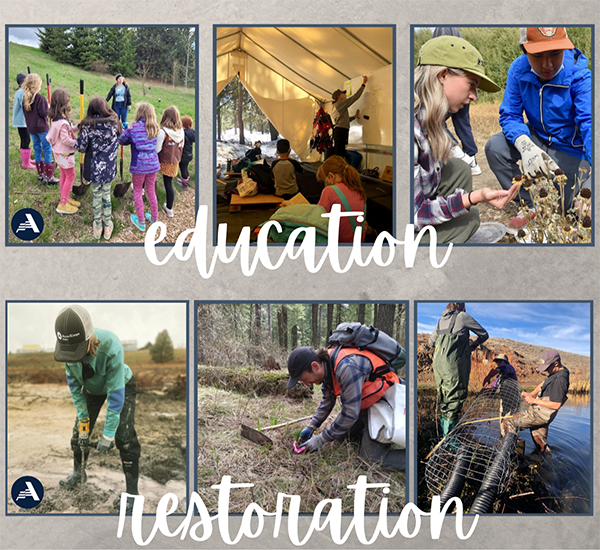 Why Join AmeriCorps?
When you choose to participate in one of our AmeriCorps Placement Programs, you become part of a nationwide family of AmeriCorps members, community volunteers, and agencies that are called to action. Each position provides an incredible opportunity to make a difference in your life and in the lives of those around you.
AmeriCorps Positions
OPEN NOW! Please visit our Job Openings page to learn more.
Interpretation & Education Specialist, City of Rocks National Reserve/Castle Rocks State Park, Almo, ID : 8-month term, 40 hours/week
Environmental Education Instructor, Foothills Learning Center, Boise: 8-month term, 40 hours/week
Water Conservation Project Coordinator, Palouse Basin Aquifer Committee, Moscow: 8-month term, 40 hours/week
COMING SOON! We will advertise and begin the selection process for these positions approximately 1 month prior to the start date.
Assistant Wildlife Educator, MK Nature Center, Boise: 6-month term beginning in March 2024, 40 hours/week
Environmental Education Instructor, Boise Urban Garden School, Boise: 4-month term beginning in May 2024, 40 hours/week
Summer Camp Educator, EverWild Forest School, Boise/Eagle: 3-month term beginning in June 2024, 20-30 hours/week
For a list of closed positions, including ones that may open again in the future, click here.
Ready to Learn More
Join AmeriCorps to gain experience in the environmental education and restoration fields and truly make a difference! Learn more about stipend and benefits here, as well as how to apply:
Host an AmeriCorps Member
Does your organization have a project or community programming you'd like to offer, but you could use some help? Let us partner with you to provide experienced individuals to deliver your outreach!
Our AmeriCorps Members
We're so grateful to the hardworking AmeriCorps members that have been placed throughout the state of Idaho. Learn more about each of our current AmeriCorps members here.