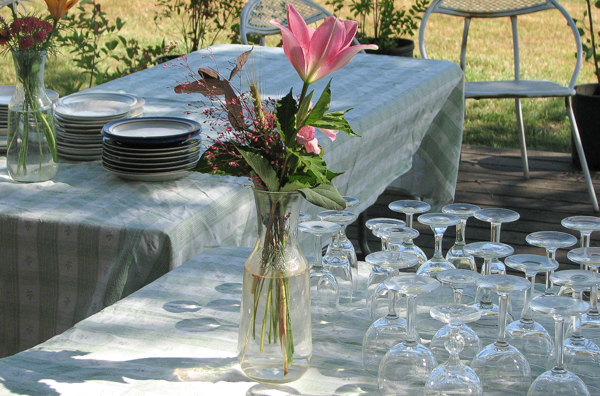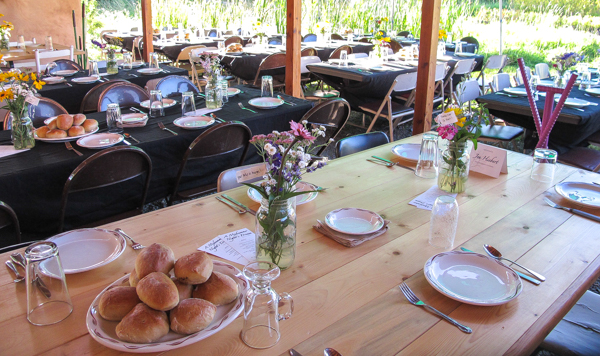 What is the Plate Project?
The Plate Project was created to find an inexpensive way of acquiring multiple place settings for events without having to use disposable plastic dishes and utensils.
From thrift stores to garage sales, large and small plates, cups, glasses and flatware were acquired at a rate cheaper then renting them. These dishes were donated to PCEI in 2005 in hopes that others would have the opportunity to share in this idea of "reusing." After the initial donation, we solicited the Moscow Community to help make it grow and it has!
Currently there are over 1000 different pieces of dishware in our collection. The Plate Project collection contains a variety of patterns such as Christmas designs, floral edges, simple color bands and plain colored plates.
---
I Want to Have a Waste-Free Event.  How Do I Request Items?

Make your reservation at least 1 week prior to the pick-up date.

Pick up the items at the 1912 Center at 412 E 3rd Street, 9am – 6pm Monday-Friday, the day prior to your event date. Your dishes will be on the benches in the upper hallway of the 1912 Center. PLEASE NOTE: You will ONLY be contacted if there is a problem filling your order.

Clean and sanitize items before and after use.

Return them in the same bins provided and to the benches in the upper hallway (where they were picked up) within a few days following your event.

If an item is lost or broken, we ask that you replace it with a comparable item.

Please mail your Plate Project donation to PCEI directly at PO Box 8596, Moscow, ID 83483 (please do not leave checks at the 1912 Center). You can also make your donation using our secure online payment form.

If you have additional questions, contact Jenny Kostroff at the 1912 Center (208-669-2249 or 1912center@gmail.com).
What Do Folks Say About the Plate Project?

After the event when we only had a really small bag of garbage, I knew it was all worth it!"

"The plate project is a valuable asset to our community."

"The plate project adds class and fun to events."

"It is nice to eat from a real plate."

"I remember this plate from when I was a kid, brings back memories."