Welcome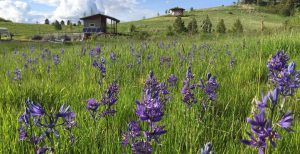 We connect people, place and community. Our programs encourage sustainable living, provide experiential learning, and offer opportunities for serving in our community, while actively protecting and restoring our natural resources. We invite you to learn more about opportunities to engage with us below.
Visit Our Nature Center
Enjoy trails, wetlands, outdoor art, Bikes for Tikes and more at the PCEI Nature Center. Located at 1040 Rodeo Drive in Moscow, Idaho. Open dawn to dusk 7 days a week.
12th Annual Animals of the Night – October 25th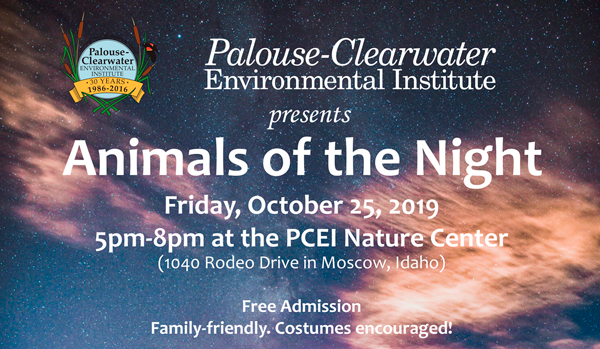 Don't miss PCEI's 12th Annual Animals of the Night, one of the most popular autumn events on the Palouse! Join us from 5pm to 8pm on Friday, October 25th at the PCEI Nature Center. The event will feature live animals, interactive exhibits, face painting and crafts, as well as a campfire and music. Enjoy s'mores by the fire and Wilson Banner Ranch hot cider (by donation). Tacos and beer will be available for purchase from Hunga Dunga Brewing Company. All contributions directly benefit the continued work of PCEI's education program.
NEW THIS YEAR: Take the free SMART Transit shuttle from Rosauers' parking lot to the PCEI Nature Center as there is limited on-street parking near the Nature Center this year. Click here for details!
Growing Our Community One New Member at a Time
A message from Doug Heckman, PCEI Board President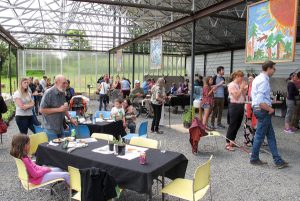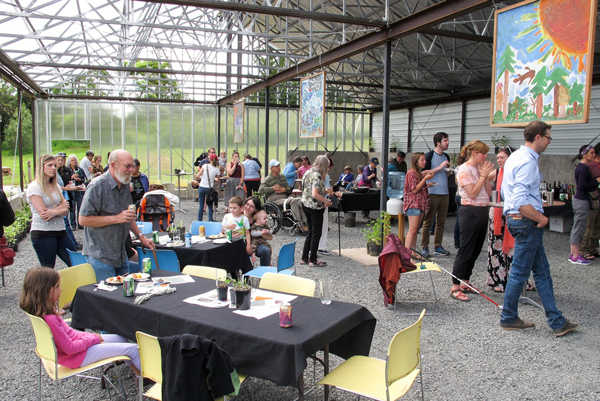 We've enjoyed a banner year at PCEI. We've put a ton of effort into planning meaningful education programs, restoring at-risk stream ecosystems, hosting fun parties and events, and keeping up with maintenance at the PCEI Nature Center and Rose Creek Nature Preserve.
To maintain and grow our programs, we also need to maintain and grow our PCEI community. Our goal is 100 new members by the end of 2019. Memberships help us improve PCEI's natural spaces, provide more stellar events, and deliver more educational programs. Plus, a strong membership base gives us more credibility and strength when applying for grants. Please consider joining the PCEI community.
Help Us Finish the Greenhouse!
The Thomas O. Brown Learning Greenhouse is a great addition to the PCEI Nature Center. Click here to learn more and make your gift today to help finish the Greenhouse!
95%
Funded
$145,393
Raised
146
Donors
$152,273
Goal

Theme is developed by Learn about Modafinil via modafinilresearch.com where you can learn about Modafnil and research

Help us finish the Learning Greenhouse at the PCEI Nature Center. Every contribution will make an impact, whether you donate $5 or $500. Thank you for your support!
Donate to the Greenhouse using PCEI's secure online donation form!