Watershed: Palouse River Basin
Stream Name: Paradise Creek
Date Established: 09/01/2002
Project Status: Complete: Ongoing monitoring and maintenance
Overview
The purpose of this project is to create a wetland along a tributary to Paradise Creek with the following benefits: flood control, native habitat for wildlife, filtration of pollutants, recreational and educational opportunities and improved water quality for a tributary to Paradise Creek.
Description
September 2002: In the September of 2002 two shallow excavation wetland were created at the site. The wetlands range from a width of 30 ft to 134 ft span approximately 140 ft in length and have an organic shape. The depth throughout the wetland range from 1ft to 1-1/2 ft. The wetland design allows the waters of the adjacent stream to enter into the area while providing a defined channel for water movement in low flow situations.
Fall 2002: In the fall of 2002, native species of woody shrubs, trees and grasses, were planted along the bank to provide shade to the stream and wetlands. Herbaceous wetland plants were planted in the wetland to help improve water quality by reducing nutrient loading through filtering. Native Willow and Red-Osier Dogwood cuttings will be planted along the banks of the stream to secure the banks and introduce shade to the system in spring 2003. This will create a woody riparian buffer. Woody riparian buffers offer many benefits, including filtration of runoff, wildlife habitat and flood water retention. All plantings are protected from vole damage with plastic tubes. The plants will be watered and weeded for the first two years.
Previous Conditions
The project site was located along a tributary to Paradise Creek in a draw located North of F Street between Mountain View Road and Cleveland Street directly next to the Streets Wetland site. The stream segment is bordered by a horse barn on the east side and a wide flat wet area to the west. The project site is inundated for a significant portion of the year and is a suitable location for a wetland. Reed canary grass is the dominant vegetation along the stream segment. Few trees or woody vegetation are present on site. The project is located directly next from a horse farm and is therefore impacted by associated pollutants entering the water from upstream.
Photo History: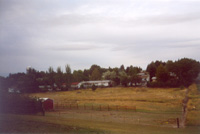 Lefors Before: The draw shown here was historically full of wetlands.