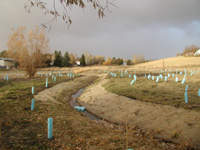 Watershed: Palouse River Basin
Stream Name: Paradise Creek
Date Established: 08/01/2003
Project Status: Complete: Ongoing monitoring and maintenance
Overview
This urban riparian restoration project is a demonstration of the effectiveness of creating and maintaining a riparian wetland area in the Paradise Creek watershed. The long term goals of the project include: establishment of native riparian vegetation, improve water quality through natural filtration, provide habitat for aquatic invertebrates, migratory species, and resident wildlife.
Description
To accomplish these goals a narrow meandering stream channel, and three associated wetlands (approximately 12? deep) were constructed. Mark Bledsoe and company excavated the site with a track hoe with an 18 inch toothed bucket and a Kabota. The construction phase took approximately three days to complete. The wetlands are adjacent to the new channel to receive and filter runoff before entering the stream and to increase flood storage capacity.Community volunteers helped seed the site with native grasses and install geotextile fabric on newly constructed banks. This will support newly constructed meanders and maintain banks of the new channel. Wetland transplants and herbaceous plugs were planted along the channel, as well as in and around the three wetlands.The stream banks and wetland edges were seeded with native grasses (tufted Hairgrass, Ticklegrass, Fowl Bluegrass, Western Managrass, Prairie Junegrass, and Idaho Fescue). Herbaceous plants (Small fruited Bulrush, Common Rush, Creeping Spikerush) and native woody species (red Osier Dogwood, Sandbar and Mackenzie Willow (plugs), Quaking Aspen, Douglas Hawthorn, Nootka rose, Serviceberry, Shiny leaf spirea, and Syringa).
The primary long-term benefits from this project include:
Establishment of native riparian vegetation along the tributary to provide habitat for aquatic invertebrates and resident wildlife, and create a corridor for migratory species.

Improve water quality by filtering sediments, nutrients, and organic matter from runoff through a riparian vegetation buffer before it enters the creek.

Restore hydrological diversity within the creek through installation of meanders that resemble the creek's historical path.
Previous Conditions
Prior to restoration, this Paradise Creek tributary was a straight, incised channel. Reed canarygrass was the predominant species on the property with a vigorous infestation of Canada thistle and morning glory. The site requires the establishment of native trees and shrubs, grasses and forbs. This stretch of the tributary is exposed to direct solar radiation as well as stormwater runoff containing sediments, nutrients, and pesticides.
Photo History: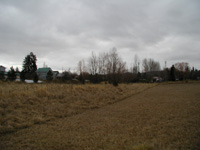 Before the Project: Run-off in a straight ditch bisected this property before work began.