PCEI Nature Explorers Program
Nature Explorers is an outdoor program for children ages 6-12 years old that invites kids
to explore and discover nature at the beautiful 26-acre Palouse Nature Center.
Nature Explorers 2023 Enrollment Now Open
Nature Explorers spring session is taking place now through June 9, 2023! See the full calendar below.
Please fill out THIS FORM to show your interest and we will be in touch with all interested families soon.
We are currently offering two options at Nature Explorers:
1. After School Camp | Fridays – 2:15 – 5:00pm
Friday afternoons after early-release, students can ride the bus or walk from their school to the Nature Center.
2.    "Pro Days" (Moscow School District Professional Development Days) on April 7, June 8, and June 9 – 1:00 – 5:00pm
Join us for a fun and interactive way to spend the afternoons when there is no school because of teacher professional training! These days fill up fast so pre-registration is encouraged.
Email Brooke Lowry at explorenature@pcei.org with any questions.
About Nature Explorers
Nature Explorers is an all-outside program designed to get kids ages 6-13 learning, moving, and exploring outdoors at the 26-acre Nature Center! School buses can deliver all kids for free from all Moscow schools when requested.
Since September 2020, Nature Explorers have been exploring the outdoors, studying the changing seasons, building shelters, running through obstacle courses, learning about team work, practicing survival skills and fire building, and much more!
Each day at Nature Explorers, students are invited to explore four stations: the Nature Station, the Movement Station, the Maker Station, and the Free-play Station. Students are invited to record their findings in their nature journals and also get opportunities to participate in hands-on service projects and learn emotional intelligence and leadership skills.
Our Mission: Nature Explorers are a great group of kids who love exploring the 26-acre PCEI Nature Center in all seasons. We learn to care about the Palouse and the environment through observation, movement, group games, and hands on lessons. Through exploratory learning and our connection to place, we practice being future leaders in the world.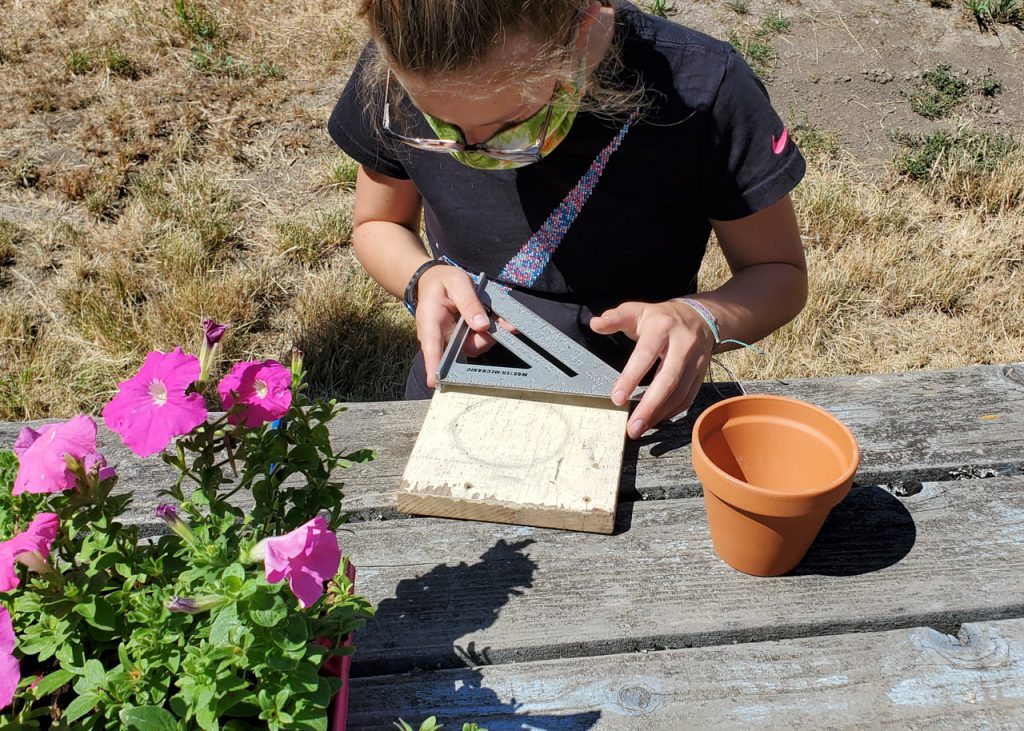 Cost
The standard fee for PCEI programs is $10/hour/child. Nature Explorers does have tuition assistance available to families who request it. Because our aim is a high-quality program with equity for all – and as many kids to be outside with us as possible – we will work with your family to make it possible for your child to attend. Sibling discounts are also available. Please ask about our tuition assistance when needed!
Safety
PCEI staff are 100% COVID vaccinated. All adults working with children–as per PCEI protocol–will have background checks completed and have a ratio of 2 adults per 10-14 children (depending on age).
Required Clothing
Since this program is conducted entirely outdoors, participating students are required to come each day with clothing appropriate for the weather of the day. For example, on a rainy day, gloves, rain gear, a warm hat, extra socks, a hearty snack, and a water bottle is required.
Registration and Payments
To start the enrollment process, please fill out the interest form here.
If you have questions about our program, please email Brooke Lowry at explorenature@pcei.org.
You can pay in person at the Nature Center (checks can be brought to the office or deposited in the "donation frog"), or you can pay online using the PayPal button below (you do not need to have a PayPal account).