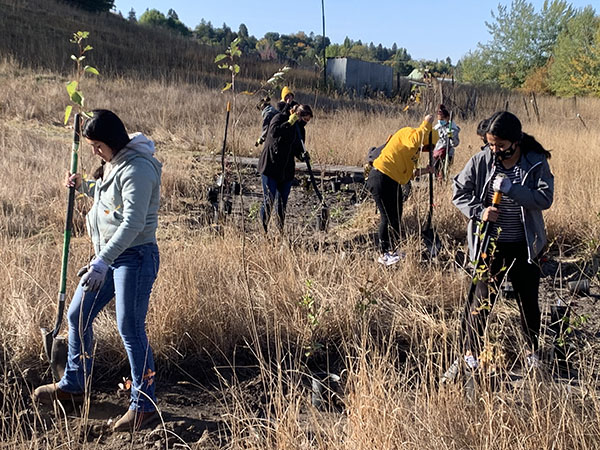 When you serve with PCEI, you are giving back to multiple communities in the Palouse-Clearwater region. You become a champion for sustainability, land stewardship, environmental education, and more. Our projects and programs are not possible without the help of volunteers like you. We take the time to couple your interests, talents, and availability with community needs and the needs of our organization to create a meaningful volunteer experience. Read on to learn about a variety of ways to get involved.
Individual or Household Volunteering
PCEI is excited to offer volunteer opportunities to get outside as a household and to keep your hands and minds busy and make a difference in the community. To learn more, visit Volunteer with PCEI or PCEI's GivePulse page.
Internships
Our internship program is designed to give you experience in a workplace setting in addition to developing and honing your skills. For a list of current internship positions and descriptions, please visit the Internships page.
Work Days
The Restoration Team schedules Work Days throughout the year at current project sites. Check out the Events Calendar for upcoming dates. We also encourage groups and organizations to contact us to set up Work Days that can be tailored to the needs of you and your members.
PCEI Nature Center Rose Creek Nature Preserve
Annual Events
PCEI hosts restoration, education, and community events throughout the year that require assistance with coordinating and facilitating all the details. Email serving@pcei.org to find out more.
Days of Service for University Students
We love working with the University of Idaho Center for Volunteerism and the Washington State University Center for Civic Engagement. Find PCEI on Vandalsync or Cougsync to see a list of opportunities for students. Below is a sample of service days that we partner with them on:
Martin Luther King Jr. Day: A national day of citizen action through volunteer service on the third Monday of January.
Alternative Spring Breaks: Join PCEI during your spring break for a regionally-based service project.
Saturday of Service: Annual spring service project day held in April.
Serving Your New Community: Service opportunity that is geared toward new students at the end of August.
Make A Difference Day: The largest national community service day that happens the end of October.
If you have another way in which you think you can help, simply let us know.
Contact the PCEI Program Manager at 208.882.1444 or serving@pcei.org.
Save