Watershed: Palouse River
Stream Name: Paradise Creek
Date Established: 09/23/2003
Project Status: Complete, monitoring and maintenance ongoing
Overview
Funding Agency: Department of Environmental Quality (DEQ)
Project Location: Latitude: 46.7822 N, Longitude: -116.9787 W
Target Pollutants:
Sediment

Temperature

Nutrients
Waterbody Type(s): Perennial
Hydrologic Unit Code: 17060108
Description
The restoration site is located on a tributary to Paradise Creek in agricultural land north of Moscow, Idaho. The stream was highly degraded by agricultural management practices. The site was cultivated to the streambank and all riparian vegetation was removed. The stream channel was braided with areas of steep, eroding banks. Reed canarygrass filled the 40 ft wide braided channel. PCEI and contractors excavated the floodplain, reintroduced stream channel meanders, resloped steep streambanks, and defined a narrow, low-flow channel. Following the excavation work, streambanks were stabilized with erosion control fabric and planted with a buffer of native riparian vegetation. The excavation of the floodplain was designed to reconnect the stream to the floodplain, increase water storage capacity and provide stream channel conditions beneficial for water quality. Terraced streambanks were constructed. Meanders were constructed. Layered soil wrap revetments were installed in the streambank at the downstream end of the site at an area of high erosion potential. All exposed soil was seeded with native grasses and the streambanks were covered with erosion control material. During Fall 2003, a riparian buffer was planted on both sides of the stream. The buffer varied in width from 45 to 90 ft. The Townsend restoration site provided an exceptional opportunity for community involvement and education. The landowner, Clint Townsend, and the agricultural operator, Larry McMillan, collaborated in project design, implementation, and maintenance of the site. Washington State University (WSU) students, University of Idaho (UI) students, local Girl Scouts and Boy Scouts, WSU Community Service Learning Center, UI Community Service Learning Center, CAMPOS Student Organization, UI Environmental Club, UI Bonner's Scholar Program, Lake City High School faculty, Alternative Breaks Association, and other community volunteers participated in planting, installing bank stabilization materials, weed control and maintenance. AmeriCorps*NCCC participated in weeding, watering and maintenance.
Previous Conditions
Paradise Creeks former straightened path ran directly adjacent to a county road, leaving the creek exposed to runoff derived from a local county road. Functional riparian habitat was absent along this stretch of the stream, providing very poor habitat for fish and little cover or food sources for wildlife. Additionally, due to the lack of a vegetated buffer, this creek segment was vulnerable to receiving a high percentage of the sediments, nutrients, and/or pesticides being carried by stormwater runoff.
Photo History:
Townsend Before Summer 2003: Before we got started on the project, this tributary of Paradise Creek was braided through this grassy area.
Tony Scooping: Tony Johnson operates an excavator to define a new low flow channel while his partner pushes the soil out of the floodplain.
New Wetland: A new wetland at the Townsend project.
Planting (October 11, 2003): Planting went fast along the newly shaped streambank. Seeding was carried out earlier in the week with a selection of native grasses. In a few years, these brown banks will be covered with green shrubs, grasses and trees.
Happy and Crazy After a Morning of Planting (October 11, 2003): Forty five volunteers from Moscow, Pullman, WSU and UI showed up on Saturday, October 11 to plant 400 trees and shrubs along 1400 feet of streambank! Thank you group!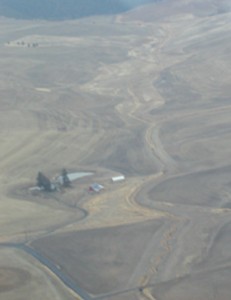 From the Air (November 2003): The Townsend project is shown in the front in this November 15, 2003 aerial shot. In the background is the Brockington project and the Big Draw Project (near the base of Moscow Mountain).