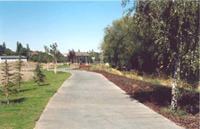 Watershed: Palouse Basin
Stream Name: Paradise Creek
Date Established: 08/01/1998
Project Status: Complete, ongoing maintenance
Overview
In 1998, PCEI and the University of Idaho completed a joint project to address stormwater runoff issues, remeander a straight section of Paradise Creek, and to recreate much-needed floodplain along Paradise Creek.To accomplish these goals, small pocket wetlands? were created and planted with hydrophytes (wetland plants) to naturally clean stormwater runoff from a nearby soon-to-be-built parking lot. The deeply incised straight channel was remeandered, and the streambanks were pulled back and resloped to recreate floodplain that would create additional water storage area during heavy storm or spring meltoff events.
Streambanks along this segment of Paradise Creek were stabilized using bioengineering techniques. In the spring (1999), trees and shrubs were planted along Paradise Creek to provide wildlife habitat, enhance aesthetics, and to improve the water quality of the stream.
Description
First, channel meanders, a tighter low-flow channel and a floodplain were constructed. The meanders provide more surface area for infiltration, more contact with riparian plants which improve water quality and create better wildlife habitat. The reconstructed low-flow channel, sized for 2 year flows, increases baseflow during the hot summer months which also benefits the aquatic biota. The riparian floodplain was built to contain a 500 year event, provides water storage during heavy storm events. The floodplain was planted with native riparian vegetation, which acts as a buffer. Water quality is improved as suspended sediment and associated pollutants are settled out on the floodplain during flood events. Hydraulic modeling showed that the constructed two stage flood channel would not cause a rise in 100 year flood elevations. In fact, the modeling showed a drop in localized flood elevations of up to 1.5 feet.
Secondly, streambanks were resloped and sculpted for stabilization purposes, then covered with geotextile fabric to prevent erosion. Some of the streambanks were terraced and geotextile fabric applied in a stairstep fashion to form earthen burritos, or soil wraps. Red osier dogwoods were sandwiched between the burritos to provide future bank stabilization with their root systems. Twenty-foot logs made of coconut fiber, termed BioLogs, were interlocked to line the streamcourse to prevent bank erosion. The entire area was hydroseeded with grass, and planted with native woody vegetation. These plants, in addition to their future aesthetic and erosion control value, will provide cooling shade to the stream and thereby increase the amount of dissolved oxygen available to fish and other aquatic organisms. In addition, this vegetation acts as a food and cover source for a diversity of wildlife, including songbirds, amphibians, and mammals.
The Sweet Avenue project also included construction of biofilters including grassy swales and pocket wetlands. These swales, or biofilters, are structural Best Management Practices (BMPs) designed to treat stormwater runoff from the adjacent parking lot. The pocket wetlands were built in the bank of the existing stream channel and currently treat stormwater runoff as well as water flowing into Paradise Creek during higher flow events.
The restored stream corridor also serves as a research site for the University of Idaho, providing students and faculty with an example of riparian ecology for research in biology, hydrology, environmental sciences, aquatic ecology, engineering, and other sciences.
This project included a baseline and effectiveness monitoring component that documented biological, chemical, and physical components of Paradise Creek at the Sweet Avenue reach and other sites within the City of Moscow for comparison. Bioaccumulation data was also collected which may provide valuable information for restoring cold water biota and salmonids in the Paradise Creek Watershed.
Previous Conditions
This section of Paradise Creek had been channelized by previous landowners. In the past, this site had been occupied by a concrete batch plant, a pesticide and diesel storage facility. Hazardous waste clean-up was conducted by the state. Eroding banks rose steeply on both sides, and in certain areas the water was heated from a lack of vegetative cover to provide shade to the stream. Additionally, the lack of riparian vegetation and the channelized streambank provided minimal habitat value for wildlife. Furthermore, a parking lot was scheduled for construction adjacent to the stream, and this restoration project provided opportunities to create bio-filtration systems for the future parking lot runoff.
Photo History
Before Restoration: The Sweet Avenue site before restoration. This site was considered a hazardous waste site because it was previously a fertilizer storage area.
Early Excavation: Excavation began in 1998 to form the new channel and floodplain.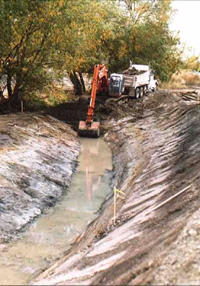 Excavator Cuts New Channel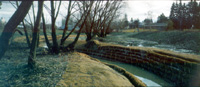 Newly Wrapped Project:
Newly seeded and wrapped project is ready for its first winter.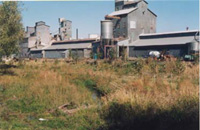 Completed Project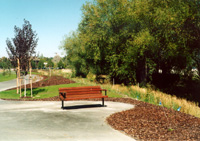 Pathway Is Built Along the New Project a Year Later: Many people travel on this path past the Sweet Avenue Restoration project.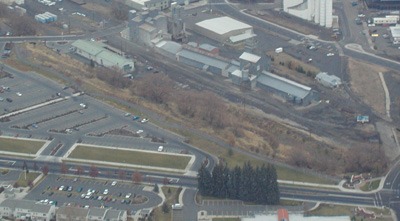 From the Air (November 15, 2003): The Sweet Avenue project can be seen from the air to the right of the triangular parking lot.