Watershed: Paradise Creek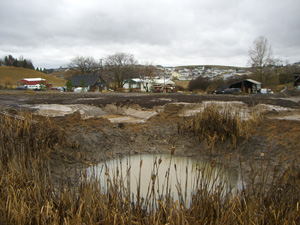 Stream Name: Paradise Creek
Date Established: 11/01/2006
Project Status: Complete, maintenance and monitoring ongoing
Overview
Funding Agency: Idaho Fish and Game Department; National Fish and Wildlife Foundation; Private donors
Project Location: Latitude: 46.7458 N, Longitude: -116.9889 N
Target Pollutants:Sediment
Waterbody Type(s): Wetland
Hydrologic Unit Code: 17060108
Description
PCEI has completed construction and planting of six wetland cells, which will serve as a demonstration project providing on-site educational and native plant propagation opportunities. The enhancement project will also increase wildlife habitat and storm water holding and filtering capacity.
PCEI's property is situated in a basin composed of upland grasses and a human-made pond. The wetlands currently supports many wildlife species including mallard , great blue heron , red-winged blackbirds, long-toed salamanders and spotted frogs. Ring-necked pheasant, several species of raptors and many different songbirds also frequent the property. Monitoring is ongoing.
During project construction, PCEI reduced the slopes of the existing pond and excavated an additional 5 wetlands in series throughout the Nature Center. The wetlands were designed collect storm water and snow melt and water from our irrigation activities in our nursery and gardens. The wetlands provide water filtration, storm water holding capacity and great habitat for native wildlife. In addition they improve the aesthetics and educational opportunities at the PCEI Nature Center.
Previous Conditions
The preexisting pond was 64 feet in diameter and at capacity reached a depth of 7 feet. During construction activities, the pond was drained and over 6 large trash cans were filled with gold fish from the pond. The gold fish were donated to the Washington State University Raptor Center. Prior to restoration, any water that was not captured in the pond or filtered through the soil made its way through the property eventually flowing into Hogg Creek, a tributary of Paradise Creek. During storm events the flow often caused flooding in the adjacent park and along the road leading to PCEI.
Photo History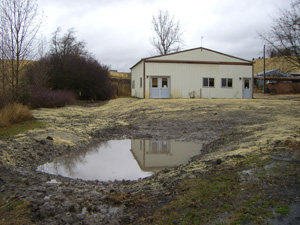 Phase 1 Planting (November 2006): Many native species of wetland grasses, rushes and sedges were planted throughout the wetland project.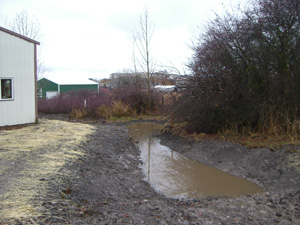 Wetland 5 Behind the Waxwing Office Building (November 2006): From the eastern portion of the property the water flows through the gardens and around the Waxwing before leaving PCEI and heading into Hogg Creek.
La Merc Creek (November 2006): The wetlands were designed to capture water from the irrigation of our Pantry Garden.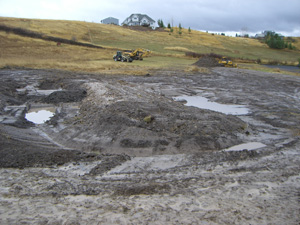 Following Construction (November 2006): Looking south at the wetland swales.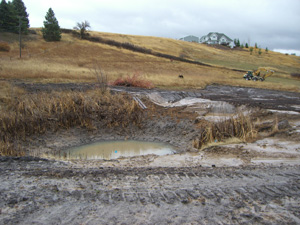 Pond Gets a New Look (November 2006): The pond with re-sloped banks following construction activities.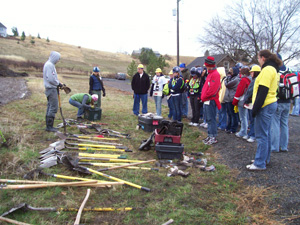 Student Volunteers (November 2006): Intermountain Affiliate of College and University Residence Halls (IACURH) members getting ready to help plant wetland grass plugs and camas bulbs.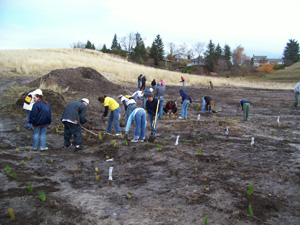 Volunteers Plant like Crazy! (November 2006): 600 plants planted in one hour!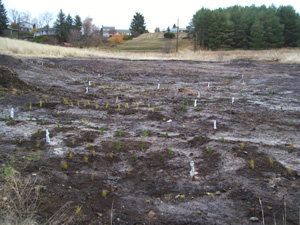 Wetland Plants Find a New Home (November 2006): Native trees and shrubs from the PCEI Learning Nursery will be planted next.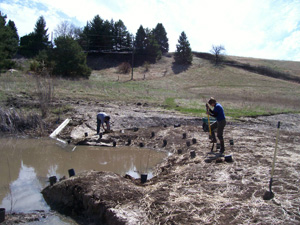 Arbor Day Planting (April 2007): In celebration of Arbor Day, volunteers help plant native trees and shrubs throughout the wetlands.