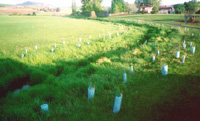 Watershed: Palouse River
Stream Name: Paradise Creek
Date Established: 04/01/2000
Project Status: Complete, maintenance and monitoring ongoing
Overview
Funding Agency: Department of Environmental Quality
Project Location: Latitude: 46.7437 N, Longitude: -116.9722 W
Target Pollutants:
Waterbody Type(s): Intermittent
Hydrologic Unit Code: 17060108
Description
The restoration site is located on Paradise Creek at the north edge of Moscow, Idaho at Mountain View City Park. Streambanks had a moderate slope, but woody riparian vegetation was absent and major portions were eroding. Reed canary grass was prominent. PCEI, subcontracted by the University of Idaho, worked with a variety of volunteer groups to plant trees and shrubs in a riparian buffer 15 to 30 ft wide. Protective tubes were installed to protect plants during establishment. PCEI and City of Moscow staff performed weed control and maintenance activities to ensure plant survival. In total, more than 1,100 trees and shrubs were planted.PCEI staff and volunteers replanted vegetation in areas of low survival and performed maintenance of previous plantings. This included watering, weeding, and removal of the protective tubes. Mountain View Park has been the headquarters of the Annual Paradise Creek Stream Clean-Up.
Previous Conditions
The 900 foot segment of the creek that flows through Mountain View Park is impacted by heavy pedestrian use since is located in a city park along playfields. Activities such as soccer, baseball, and inline skating are typical park uses; consequently, the stream channel has few significant meanders due to this intensely managed landscape. Lack of significant vegetation allowed direct flow of stormwater runoff containing non-point source pollution to the creek. Direct solar radiation also increased the water temperature, and wildlife habitat along the creek was minimal. Reed canary grass is the dominant cover type, providing little shade to the creek channel. Canopy cover was minimal along this segment of the creek.
Photo History:
Mountain View Park (Spring 2000): These tubes act as miniature greenhouses by trapping moisture, which then speeds up the photosynthesis process. They also protect the vegetation against vole damage.