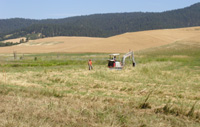 Watershed: Palouse River
Stream Name: Paradise Creek
Date Established: 08/15/2003
Project Status: Complete, monitoring and maintenance ongoing
Overview
Funding Agency: Department of Environmental Quality (DEQ)
Project Location: Latitude: 46.7851N, Longitude: -116.9830 W
Target Pollutants:
Waterbody Type(s): Perennial
Hydrologic Unit Code: 17060108
Description
The restoration site is located on rural private property north of Moscow, ID on Foothill Rd. Prior to restoration, the stream channel was straightened and crossed by agricultural machinery. Reed canarygrass was the dominant vegetation and no woody species were present. The lack of vegetation and the impact of agricultural development led to degraded stream conditions and erosion.A new, narrow stream channel was created with a trackhoe. Channel sinuosity was increased by the inclusion of meanders. The stream length was approximately doubled in this reach. Native riparian vegetation was planted following excavation. The landowners collaborated on the project design and implementation. Students from the University of Idaho and Washington State University participated in plantings and maintenance.
Previous Conditions
Prior to restoration, the stream channel was nearly straight and was largely overgrown by reed canary grass. There was no native vegetation present other than a few native wetland plants. The reed canary grass monoculture provided little shade to the stream and little wildlife habitat. The lack of woody vegetation and prevalence of fine silt in this section of stream encouraged the development of an excessively wide, shallow channel. In addition, downstream landowners were concerned about flooding resulting from the channel silting in.