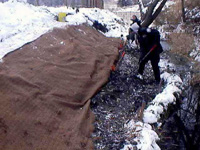 Watershed: Palouse Basin
Stream Name: Paradise Creek
Date Established: 11/14/2000
Project Status: Complete
Description
This 65 foot project was done only through the effort of manual labor. The streambank, cleared of reed canary grass, was resloped and then stabilized with three bioengineering techniques: a fascine, vertical bundles and coir logs. Riparian grass seed mix was spread and covered by erosion control fabric.
Previous Conditions
This streambank was degraded due to a water flow barrier. Since this barrier could not be removed, the failing streambank needed to be strengthened through environmental friendly means.
Photo History:
Before (07/18/2000): Thick patches of reed canary grass previously dominated the streambank. The other streambank is a wall constructed of chunks of asphalt. This hard structure redirects the water's energy against the other bank causing bank failure.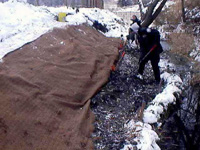 ECB (11/15/2000: Taken from the same location as the above photograph, the AmeriCorps*NCCC team is working on securing the fascine along the base of the streambank.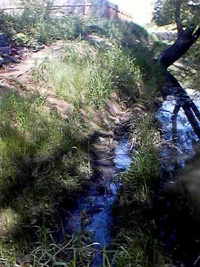 ECB (05/22/2001): A half year later, the native riparian grass mix is beginning to grow through the erosion control blankets.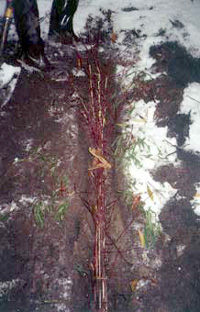 Vertical Bundle (11/14/2000): This photograph highlights one of the bioengineering techniques called a vertical bundle. These red osier dogwood branches are bundles together and placed in upright position along the streambank. They are then covered with soil, with the tops of the branches exposed.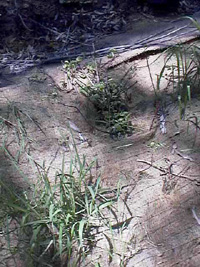 Vertical Bundle Growth (5/22/2001): In early spring the new growth from the vertical bundles is apparent.