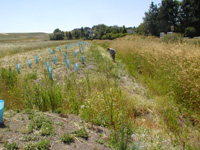 Watershed: Palouse River
Stream Name: Paradise Creek
Date Established: 09/01/2002
Project Status: Complete, maintenance and monitoring ongoing
Overview
Funding Agency: Department of Environmental Quality (DEQ)
Project Location: Latitude: -116.9701 N, Longitude: 46.7403 W
Target Pollutants:
Sediment

Temperature

Nutrients
Waterbody Type(s): Perennial
Hydrologic Unit Code: 17060108
Description
The restoration site is located on Paradise Creek at the urban/rural interface near Moscow, Idaho on private property. The stream was dredged and channelized with steep, eroding streambanks. Reed canarygrass was the dominant vegetative cover and woody riparian vegetation was largely absent. In addition, there were two gullies on the site.One gully was located at the southeastern end of Mountain View Park, at the end of a drainage pipe. The gully was approximately 3 ft deep and ranged from 10 ft at the mouth to 2 ft wide at the source. The second gully was located approximately 200 ft downstream. The gully formation was primarily due to agricultural encroachment into the riparian area and a lack of riparian vegetation. The gully was 20 ft long and approximately 4 ft deep. The gully width ranged from 11 ft at the mouth to 2 ft at the source.
Previous Conditions
These stream segments had slumping, eroding streambanks that were frequently undercut during heavy storm events, contributing sediment to Paradise Creek. In addition, annual dredging artificially widened and incised the stream channel. Widening the stream and the lack of shading caused the water to heat up during low flow periods of the year. Lack of a riparian buffer allowed direct flow of agricultural runoff into the creek. Reed canary grass was the dominant cover type. Canopy cover and wildlife habitat were minimal along this segment of the creek.This project addressed two gullies that were forming on the site. The first gully was beginning to form at the southeastern end of Mountain View Park, near the end of a drainage pipe. The gully averaged approximately 2 to 4 feet deep. The gully opening was 10 feet wide at the entrance to the creek and 2 feet wide at the back. A second gully was forming approximately 200 feet downstream from the first gully. This gully was approximately 20 feet long and 2 to 5 feet deep. The gully was approximately 11 feet wide downstream and 2 feet wide upstream.
Photo History:
Collapsing Banks: Banks on the far side of the photo are found on the treatment site, and were collapsing before this work began. Plantings in the foreground were planted a year earlier on Mountain View Park in Moscow.
Gully Close-up: One gully found along the Hall-Trail property shows deep incised cutting aling the bank.
Treated Gully: Erosion control fabric was used to treat this gully after it was cut back. later this gully was planted with native red osier dogwood.