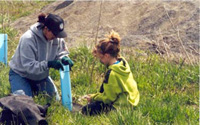 Watershed: Palouse Basin
Stream Name: Paradise Creek
Date Established: 04/20/1999
Project Status: Complete, Ongoing maintenance and monitoring
Overview
In 1999, volunteers helped plant native woody vegetation along Paradise Creek to shade the creek, provide habitat for fish and wildlife, and to enhance the outdoor recreational value of the area. Volunteers used both rooted stock and cuttings to revegetate riparian areas along Paradise Creek. An estimated 3000 cuttings and 1000 trees and shrubs were planted during 1999. During Spring 1999, Girl Scouts, community volunteers and a Trio AmeriCorps member worked together to plant trees and shrubs along Paradise Creek (Spring, 1999).
In order to stabilize the banks, native willow poles from Wildlife Habitat Institute were planted with post-hole tool on an excavator along the stream. In addition, over 2000 native trees and shrubs were planted in approximately 40 foot wide buffer strips on either side of the creek. These will grow to shade the stream, helping moderate stream temperatures. Woody riparian buffers offer many benefits, including filtration of runoff, wildlife habitat and flood water retention.
These plantings were protected from vole and beaver damage with plastic tubes, and were watered and weeded for the first two years. The City of Moscow Parks Department also cooperated with PCEI to plant native trees along the Chipman Trail, which parallels the project site. This, in essence, expanded the buffer width on the north side of the stream to ~75 feet.
Description
The Chipman Trail Urban Riparian Restoration site is located on urban private property owned by the City of Moscow west of Perimeter Drive and south of the Pullman Highway in Moscow, Idaho. The stream channel is confined between the roadway and a railroad track. The Bill Chipman Trail is a popular, paved recreational trail between the stream and the Pullman Highway. Riparian vegetation was planted on the site by PCEI and volunteers to improve water quality and wildlife habitat.
Previous Conditions
Prior to restoration activities, the stream had been dredged and the streambanks were steep and eroding. Woody vegetation was largely absent from the riparian area and reed canarygrass was the dominant plant species on the site.
Photo History:
Community volunteers plant aspen trees and other native vegetation along Paradise Creek. Black mats stapled around the base of the trees will help reduce competition with the surrounding aggressive reed canary grass. Tree tubes (blue) will reduce predation from rodents.