Watershed: Palouse Basin
Stream Name: Paradise Creek
Date Established: 06/19/2001
Project Status: Complete
Description
The main purpose of this project was to reconfigure approximately 450 linear feet of a straight, ditch-like creek to a low flow channel with a terraced floodplain. Approximately 390 cubic yards were excavated from this site. The newly constructed low flow channel was a 3 to 4 foot bottom width, compared to the old width of 8 foot. Approximately 195 cubic yards of the 390 cubic yards were used as backfilled to create the two-tiered floodplain. From the creek's west side streambank the floodplain extends 20 feet back with each terrace being about 6 feet in width and a foot in height. To create these terraces the excavator constructed soil wraps out of erosion control blankets and some of the excavated material, while the Palouse-Clearwater Environmental Institute staff and AmeriCorps*NCCC members secured these soil wraps in place.
Previous Conditions
The previous site conditions of this stream segment were characterized by slumping, eroding streambanks that were frequently undercut during heavy storm events. In addition, the creek was regularly dredged, creating a far too wide low flow channel. Reed canary grass was the dominant vegetation along this stream segment. Few trees or woody vegetation grew along the stream segment because mowing was conducted up to the edge of the streambank.
Photo History: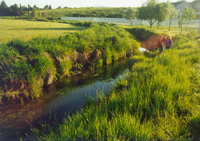 Bridge Before NE 06/18/01: Highlighted in this photograph are the previously existing site conditions before excavation began. Worth noting is the channel's width and dominance of reed canary grass along the streambank.
Bridge 1st Wrap NE 06/19/01: The first step in the implementation process of the soil wraps was the need to drain the water out of this reach of the creek. Once completed, the first soil wrap could be installed within the channel.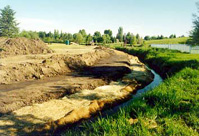 Bridge 2nd Wrap NE 06/20/01: Taken from the same location as the previous two photographs, the first soil wrap has been installed and the second wrap is in the process of being constructed.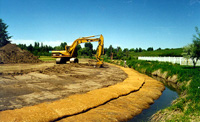 Bridge Resloping NE 06/20/01: This photograph was taken in the same location as the previous three photographs. The excavator has just finishing resloping the upper bank. This is the final stage of the construction.
Bridge 2nd w ECBs N 06/19/01: Will has now mastered the process of securing the erosion control blanket and is now running to lie out the roll for the second soil wrap.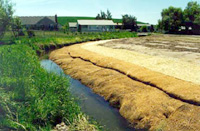 After Shot: This view highlights the curve of the creek as it flows towards the culvert. Both soil wraps have just been constructed and the upper bank gently resloped. This is the finished grade for the project.
Plantings at the 1st Annual Watershed Festival: Native trees and shrubs where planted at the Paradise Creek Festival with the help of local Moscow school children. Here Idaho Fish and Game officer, Clint Rand talks with Moscow Fourth grade students about the fish and mammals of Paradise Creek.