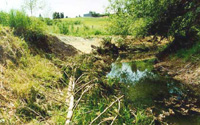 Watershed: Palouse Basin
Stream Name: Paradise Creek
Date Established: 06/14/2001
Project Status: Complete
Overview
The restoration site is located on urban public property owned by the City of Moscow in Moscow, Idaho. Prior to restoration, the property was a privately owned vacant lot. The landowner, Katrina Berman, placed a conservation easement on the property and donated the land to the City of Moscow. Planning for the riparian restoration project began at the same time that the City of Moscow began to develop the area as Berman Creekside Park.
Description
A cedar/fir log revetment was constructed and installed by AmeriCorps*NCCC members during the summer of 2001. Logs were secured with cables and posts along the base of an outer meander bend. The revetment was used to stabilize 143 ft of eroding streambank. The upper streambank was resloped to a gradual slope. The banks were covered with erosion control fabric and planted with native woody species, bunchgrasses and herbaceous forbs. Donated wildflowers planted on the site included prairie smoke, smooth alumroot, little sunflowers, and grass widows. Renaissance Charter School parents and students, local Girl Scouts, University of Idaho students, AmeriCorps*NCCC and other community volunteers participated in riparian planting events. Volunteers also installed wildlife habitat structures constructed from donated materials. The PCEI Education Program provided leadership and coordination on student planting events through the AmeriCorps Learn and Serve Program. Whitman College Alternative Spring Breaks volunteers collected willow and dogwood poles for planting. Donated plants were provided by the University of Idaho Forest Research Nursery and the USDA Plant Materials Center. The City of Moscow further developed the floodplain area into a City Park and focused their landscaping efforts to complement riparian restoration efforts.
Previous Conditions
Prior to restoration activities the streambanks were steep, eroding, and frequently undercut by high water events. Golden willows, an introduced species, lined the banks, and the understory was dominated by reed canarygrass.
Photo History:
Berman Creek Park Prior to Restoration (June 2001): This stream segment had near vertical, slumping, eroding streambanks that were frequently undercut by high water events. The majority of the streambank was exposed with a few patches of reed canary grass.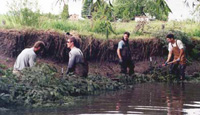 Revetment Installation (June 2001): A cedar/fir revetment was installed by the AmeriCorps*NCCC team to stabilize the toe of the slope and collect sediment to rebuild the stream bank.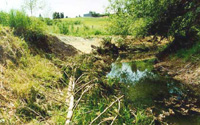 Resloping and Revetment Installation Complete (June 2001): The upper streambank was resloped to a 2:1 slope. This was done to reduce erosion, and create an area were native vegetation can be planted.