Watershed: Palouse River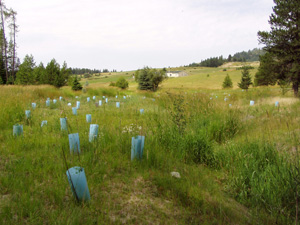 Stream: Flannigan Creek
Established: 05/08/2007
Status: Complete, maintenance and monitoring ongoing
Overview
Funding Agency: Department of Environmental Quality
Project Location: Latitude: 46.8522 N Longitude: 116.9418 W
Target Pollutants:
Sediment

Temperature

Nutrients

Bacteria
Waterbody Type(s): Intermittent
Hydrologic Unit Code: 17060108
Description
The Friends of Flannigan Creek Riparian Restoration Project was designed under the priorities developed by the Palouse River Tributaries Watershed Advisory Group (WAG) during the creation of the Palouse River tributaries Total Maximum Daily Load (TMDL). Restoration work took place on private properties in the upper Flannigan Creek Watershed where the West Fork of Flannigan Creek meets the main stem Flannigan Creek. Restoration work targeted reductions in sediment, bacteria, nutrients and temperature, pollutants for which the TMDL on Flannigan Creek was established. In addition, this project improved riparian habitat through native plantings. Agriculture, grazing and forestry are major land uses in the watershed. According to the TMDL (IDEQ 2004), sediment loading to Flannigan Creek is 23 times greater than background levels and 8 times greater than the estimated load capacity, requiring a 67% load reduction in sediment. Nutrient load reduction for Flannigan Creek is between 0.004 lbs per day and 0.275 lbs per day in the lower watershed. Bacteria data evaluated under the TMDL show numerous exceedances above the state standard for secondary contact recreation beneficial designated use.
Six adjacent landowners have participated in riparian restoration work on their property. Water quality improvement projects focused on stabilizing stream banks where active erosion was visible and increasing wetland area in priority locations that will collect and filter runoff. Riparian plantings focused on bare areas due to the recent burn and areas where construction activities were underway. Much of the stream has adequate canopy cover. The stabilization and revegetation of 1,336 feet of stream bank will reduce in-stream erosion. Bank stabilization techniques included the excavation and resloping of the stream bank and the installation of erosion control fabric. The 330,280 square foot variable riparian buffer was planted with native woody, herbaceous and grass species. The riparian buffer acts as a filter reducing overland sediment flows, while filtering nutrients and bacteria generated from upland land use practices. Filter strips have been shown to reduce sediment by 65%, total phosphorous by 85%, nitrogen by 70% (PSU 1992) and fecal coliform by 55% (EPA 2003). In addition to acting as a filter for pollutants, the established riparian buffer will also provide shade reducing extreme summer temperatures.
Wetland swales were enhanced and created in areas suitable for filtration of runoff caused by land use practices currently underway in the watershed. Wetlands increase filtration of pollutants and expand storm water holding capacity in the watershed.', 'The project is located in the upper Flannigan Creek watershed on private property and is considered a critical target area for sediment and temperature reduction due to intensive impacts from agriculture, ranching and residential development in the watershed. According to the TMDL (IDEQ 2004), these land uses created sediment loading 23 times greater than background levels and 8 times greater than sediment loading capacity. These figures requires a sediment load reduction of 67%. The Flannigan Creek temperature profile from May to November 2002 indicates exceedances for the Idaho cold water aquatic life daily average (ICWB-Ave) of 19ºC and the Idaho salmonid spawning daily average (ISS-Ave) of 9ºC.
Photo History
Excavation 2007: The first stage of Flannigan Creek excavation began in late September stretching into October 2007. Two sections of the banks of Flannigan Creek mainstem and one section of an unnamed tributary of were re-sloped. (Broyles property, September 2007)
Fall Hydroseeding: For this restoration project, hydro-mulching immediately followed excavation. This hydro-mulch application included a mix of native and restorative grasses including Indian ricegrass, Idaho fescue, and Bluebunch wheatgrass. (Broyles property, October 2007)
Erosion Control Fabric: Following excavation and hydro-mulching, the Watersheds AmeriCorps crew installed erosion control fabric on exposed banks. The fabric serves to minimize erosion on excavated banks, giving time for the grasses and shrubs to establish roots. (Broyles property, October 2007)
Flannigan Creek Volunteer Workday: Thirteen volunteers showed up to lend a hand in restoration on Flannigan Creek. These volunteers helped lay erosion control fabric, plant native vegetation, and water recently installed native plants. (Broyles property, October 2007)
Russell Elementary Planting: On October 18, 2007, 18 students helped the Watersheds Crew plant 119 native plants and trees in a few short hours. That is half the number of the plants reserved for the largest excavated area. Thanks for the help and nice work! (Broyles property, October 2007)
Flannigan Creek Volunteer Workday Take 2: On Saturday October 20, nearly 70 volunteers braved temperatures in the mid to upper 30"s and driving rain. They planted 275 native shrubs and trees and 1200 wetland plugs. Everyone worked hard to get the job done despite the inclement weather. (Broyles property, October 2007)
Pre-Excavation High Flows: Early spring rain on snow events create some of Flannigan Creek"s highest flows and most intense erosion. PCEI"s restoration efforts, specifically excavation, reconnect the banks of the creek with the floodplain, giving the channel more capacity to accommodate flows like the one pictured. (Lawrence property, February 2007)
Pre-Excavation Downstream: Here is downstream Flannigan Creek before excavation in early Fall 2007. Flashy spring runoff and extremely fine grained soils create these vertical banks. (Lawrence property, September 2007)
Pre-Excavation Fall 2007: The PCEI Watersheds AmeriCorps Crew prepared the Flannigan Creek site for excavation by mowing the thick stands of canary reedgrass. This section of the creek was narrow and heavily incised until excavation. (Broyles property, September 2007)
Pre-Restoration: This picture is taken near the downstream end of the Reynold's property on Flannigan Creek facing southwest for an overview of the project site prior to restoration efforts. Although some native vegetation is present, canary reedgrass is the dominant species on site due to the moist soil conditions along the creek and in the wet meadow. (Reynolds property, August 2008)
Creating a Wetland: An excavator initiates the creation of a wetland on the downstream portion of the property. Wetlands increase water-holding capacity and provide and enhance habitat for local wildlife. (Reynolds property, October 2009)
Landowner Participation: AmeriCorps member, Matt Racette, works alongside landowner, Dave Reynolds. Together they employ a tractor to dig holes for fence posts to anchor long stretches of wire fence. The Reynolds allowed PCEI employees to use farm equipment that helped make the work more efficient and a lot more fun. Thanks a lot for landowner participation and generosity! (Reynolds property, October 2008)
Erosion Control Fabric Installation: Volunteers roll out coconut fiber erosion control fabric on the banks of Flannigan Creek. These volunteers came out for Make A Difference Day and clearly made a huge difference! The green mulch is a recent hydro-mulch application. (Reynolds property, October 2008)
Planting Demonstration: AmeriCorps Member Ali Jo Hart demonstrates to volunteers how to properly plant a tree or shrub. While it isn't rocket science, plants are successful when planted in a wide shallow hole, leaving no roots exposed and the base of the plant undisturbed. The plant is then watered to help the soil and roots settle together. Finally the vegetation is secured with a plant protector that serves as a marker while guarding the plant from predators. (Reynolds property, October 2008)
Volunteers Plant Hundreds!: Students from the University of Idaho joined forces with the PCEI Watersheds AmeriCorps Crew to install hundreds of native plant species on Flannigan Creek. The plants were also watered and secured with tree protectors where necessary. At the season end 345 native trees and shrubs were planted on site to help target pollutants such as temperature and sediment. (Reynolds property, October 2008)
Finishing Erosion Control Fabric: The Watersheds AmeriCorps crew enjoyed a sunny fall day to finalize the installation of erosion control fabric on site. Over all, approximately 1,200 linear feet of fabric was used to protect the banks from lateral erosion until the grass is established. (Reynolds property, October 2008)
Flannigan Creek Fences and Fabric: Over 3,000 linear feet of fence was installed on the property to provide plenty of pasture for horses, while limiting their access to the creek. The fence also protects the newly planted vegetation from being trampled or eaten by livestock. (Reynolds property, October 2008)