Gail DeSantis, Office Assistance

Gail frequently volunteers her time to help PCEI with advanced clerical work. Thanks for being such a staunch supporter, Gail!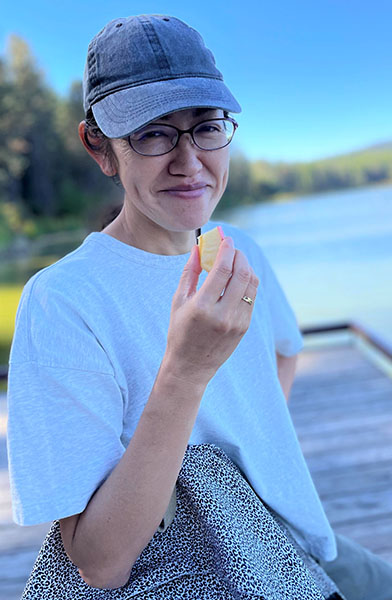 Yuko Uemura
I was raised in a rural town in the northeastern part of Japan. Surrounded by rice paddies, farms, and forests, I grew up in an environment where being in nature was a central part of my life. I think I learned a lot from nature during my school days, when I would pick berries and catch newts on my way home from school.
Raising my children in the big city of Tokyo made me realize something. I believe there is immeasurable learning that comes from spending time in nature. It was very rejuvenating for me to go to the countryside on my days off, but even in the big city there are many ways to connect with nature, and it was a valuable experience to be able to find them together with my children. I am constantly amazed at the power of my own child, who has a true sense of wonder. I'm looking forward to discovering more of the power of nature with children at Palouse Roots.
I have a license as a nursery teacher in Japan and worked at a nursery school and a family childcare center. Since my son was a baby, I have been organizing local parent-child playgroups to create community connections among local parents. I also worked as a volunteer at a co-op to build relationships with the local community and farmers and learned about sustainable land use practices.
My family includes my husband, daughter, son, and our shelter dog. I recently moved to Moscow with my daughter for a short stay. My motto is to live mindfully with love, and I like to cook, make crafts, and observe nature. I hope to open my own nursery school when I return to Japan.
Save
Save
Save
Save
Save