Greenhouse Gala – June 23
Come see our new Thomas O. Brown Learning Greenhouse!
Everyone is welcome to this family-friendly event featuring tapas, drinks, entertainment, art and more!
Sunday, June 23rd, 3:00pm – 6:00pm
at the PCEI Nature Center
(1040 Rodeo Drive, Moscow, ID)
Thanks to our sponsors:
Zions Bank • Patty's Mexican Kitchen & Catering Hunga Dunga Brewing • Wine Company of Moscow • o-ramen Goose House Bakery • Nectar Restaurant & Wine Bar Sangria Grille & Maialina Pizzeria Napoletana
The construction of the Learning Greenhouse would not have been possible without the generous support of the Thomas O. Brown Foundation and our many greenhouse donors. Thank you!
For more info call (208) 882-1444, visit pcei.org
or follow this event on Facebook.
95%
Funded
$145,393
Raised
146
Donors
$152,273
Goal
Help Us Finish the Learning Greenhouse!
Your contributions will be matched, up to $26,000 by the Thomas O. Brown Foundation! Donate to the Greenhouse today using PCEI's secure online donation form!
Spring 2019 Update

The Greenhouse is nearly ready for the clear siding to go up!
Winter 2019 Update

The roof is going up!
Fall 2018 Update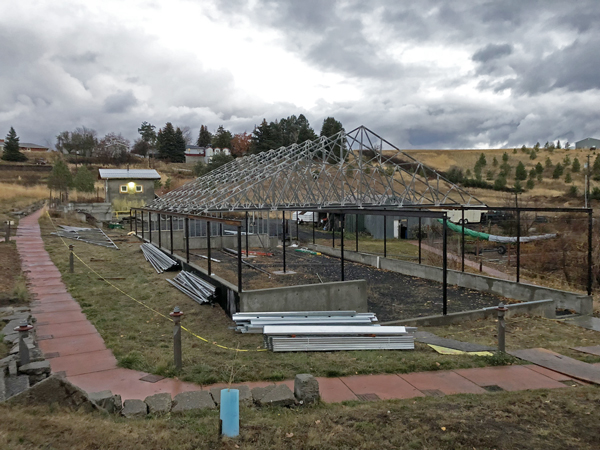 The trusses are going up! Many thanks to Rugged Cut Custom Metal Works for going the extra mile so that we could use the Learning Greenhouse for our 11th Annual Animals of the Night family event on October 26, 2018.
On October 22, 2018, we were honored to receive a visit from family members of the Thomas O. Brown Foundation. This project would not be possible without their generous support. Thank you!
Summer 2018 Update
We are thrilled to announce that construction has begun (offsite) on the walls and roof trusses of the Thomas O. Brown Learning Greenhouse! A major component of the structure includes recycled trusses donated by the Clearwater Paper Corporation from its Lewiston site.
When completed, the 3,200 square foot Thomas O. Brown Learning Greenhouse will be used for native plant production, growing demonstrations, educational space, and innovative efforts such as aquaponics (growing both fish and plants using recirculating water).
Our summer and fall 2018 goal is to raise $26,000 that will leverage an additional $26,000 from a generous matching pledge!
Completed to date:
Design, engineering and excavation
Construction of foundation and concrete walls
Plumbing and electrical installation
Mounting of steel center posts
However, we still need to raise $62,000:
To complete the framing of the Greenhouse.
To complete the shell of the Greenhouse (siding, roof and doors)
Click here to make a Greenhouse pledge or gift today!
The Thomas O. Brown Foundation has been the cornerstone of this ambitious project providing $75,000 in support to date. In the words of the Foundation, "We are deeply impressed by your dedication and vision to this project, and are pleased to be significant partners in this venture."
The Thomas O. Brown Foundation is a small, private family foundation whose mission is to provide financial support to organizations that protect and preserve National Parks and other places of natural beauty in the United States. One of the core goals of the Foundation is to fund organizations that promote outdoor education and outreach.
For more information, please contact PCEI Executive Director Tom Lamar at 208-882-1444 or lamar@pcei.org.