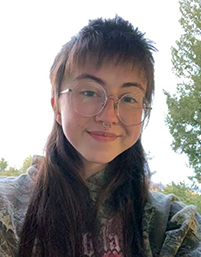 Fiona Quigley, Palouse Roots Educator
As a child to two botanists, I was destined to love the outdoors. Nature and conservation played a very present role in my upbringing. I grew up in subtropical Florida, teeming with life in every corner and endless opportunities for curiosity and hands-on interaction. My time spent wandering the cypress groves and swamps instilled within me a deep connection and sense of peace with nature.
In January of 2019, I drove across the country to begin pursuing a bachelor's degree in mathematics at Washington State University. The snow was a shock, but the rolling hills and the community of Moscow, Idaho immediately captured my heart. In the fall of 2020, I was introduced to Palouse Roots as a substitute assistant teacher and was delighted by the opportunity to inspire and educate young children about nature by being directly in it!
Children have a natural curious and creative nature that I have always loved to be around, and I think these qualities are best nurtured in the outdoors. The students' kindness, resourcefulness, and enthusiasm for knowledge is inspiring and constantly teaching me how to be more kind, resourceful, and enthusiastic in my life. Palouse Roots is a program that I feel is incredibly valuable to its students and to the communities they will touch throughout the rest of their lives. I know that I will be a great fit for the role of assistant teacher, and I am excited for this chance to inspire and educate the children in our community!
---