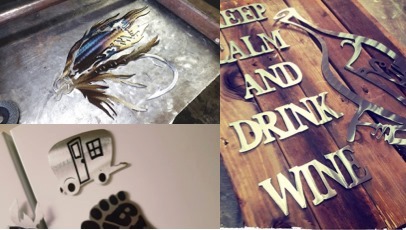 PCEI is honored to once again be a part of Artwalk. Each year we encourage people to start their Artwalk adventure early by coming to PCEI and then head downtown.
This year we are fortunate to have Chris Lozar from Rugged Cut Custom Metal Works as our featured artist. Chris has 17-plus years experience as a welder, but along the way he also started experimenting with custom hand-cut metal art. It's beautiful, and we are excited to showcase some of his work in our new Thomas O. Brown Learning Greenhouse, a structure that Chris and Rugged Cut helped build.
We think the combo of showcasing our greenhouse along with Rugged Cut Custom Metal Works is the perfect way to start Artwalk. In addition to the art, PCEI will provide refreshments.
And if you miss Friday's event, you can join us at the Nature Center on June 23 for our Greenhouse Gala (3-6 p.m.) and enjoy the Artwalk artwork and help us celebrate the Learning Greenhouse. Both events are free and family-friendly.