Pour Company's Farmhouse Beer Fest
September 24, 2022
@
3:00 pm
–
7:00 pm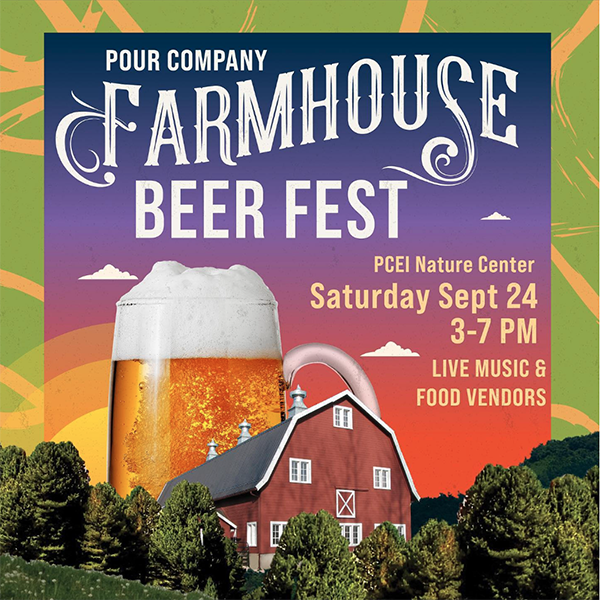 From Pour Company:
This one is for the wild and funky!
Save the date for Pour Company Farmhouse Beer Fest on September 24th from 3-7pm at PCEI!
Walk the trails at the Palouse-Clearwater Environmental Institute (PCEI) and find beer stations to stop and enjoy a farmhouse style beer from world class breweries.
Sit on the lawn by the pavilion and listen to Corn Mash while enjoying a meal from Humble Burger or climb up to the Artist Studio to take in the views and listen to Delta G Blues.
Farmhouse ale is a catch-all term for a broad range of styles including saison, bière de garde, gueuze, and sahti. Farmhouse ales can be funky and wild with earthy notes like wet hay and spice, they can be tart with berry notes, or they can be completely clean and finish dry and crisp. The broad range of the style is what makes farmhouse ales so fun and interesting. Farmhouse ales were summer beers in France and Belgium. Brewed on the farm and consumed by seasonal workers, brewers used leftover crops and other local ingredients to create truly unique beer born from their location. Farmhouse ales are typically low in ABV so seasonal workers could drink the beer while working. While farmhouse ales are not something most farms continue to brew, many breweries still explore the style. A few of the breweries we are featuring are even located on their own farms and use ingredients they grow and yeast they harvest on site. With the wide range of flavor profiles in farmhouse ales, exploration is key to find beers you love. At Pour Company Farmhouse Beer Fest, we will have a large selection of styles on draft and bottles you can purchase to take home.
Limited tickets are on sale now at pourcompanymoscow.com!
$5 from each ticket purchased will be donated to PCEI.
Featured Breweries:
E9 Brewing Co.
Jester King Brewery
Upright Brewing
Propolis Brewery
Alesong Brewing and Blending
Garden Path Fermentation
Von Ebert Brewing
Fantome
Micropolis Brewing
Hunga Dunga Brewing
Food Vendors:
Humble Burger
Hunga Dunga
Music:
Corn Mash
Delta G Bottleneck Blues