Animals of the Night
Hundreds of people attend our annual Animals of the Night Education fundraiser each year. Attendees of all ages explore the trails of the PCEI Nature Center to learn about nocturnal animals, such as bats, wolves, and raccoons from local experts. The event also features live animals, free snacks and beverages, games, and crafts. Click here for a video of the event!
Summer Storytime Series
Enjoy reading and the outdoors with your children at the PCEI Nature Center. Each week (June through August) a special guest from the community will read books about the natural world and sustainability followed by fun, outdoor activities. Please bring your own blanket or camp chairs. For more information, visit pcei.org/storytime or email storytime@pcei.org.
Seasonal Wanderings Family Series
After a highly successful pilot season in the Spring of 2015, the Seasonal Wanderings Family series has been expanded to span the entire calendar year! This program aims to provide fun and entertaining opportunities for Palouse families to connect with each other and the natural world. Our education staff teams up with local experts to produce engaging and exploratory programming for people of all ages! For more information on upcoming Seasonal Wanderings Family Series Events, visit this page.
Movies

PCEI has sponsored and co-sponsored some great, informational and inspirational movies on a variety of topics over the years. In 2013 and 2014 respectively, PCEI and local Americorps members teamed up to bring I Am and Project Wild Thing to the Kenworthy Performing Arts Center in Moscow, ID. More recently, PCEI also partnered with the University of Idaho Environmental Law Society to show environmental short films at the 2015 People and Nature Film Festival. Keep an eye out for more opportunities to get informed through fabulous cinema!
Science After Hours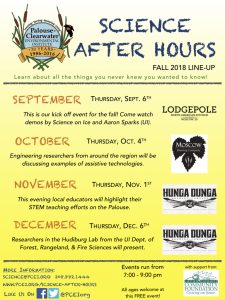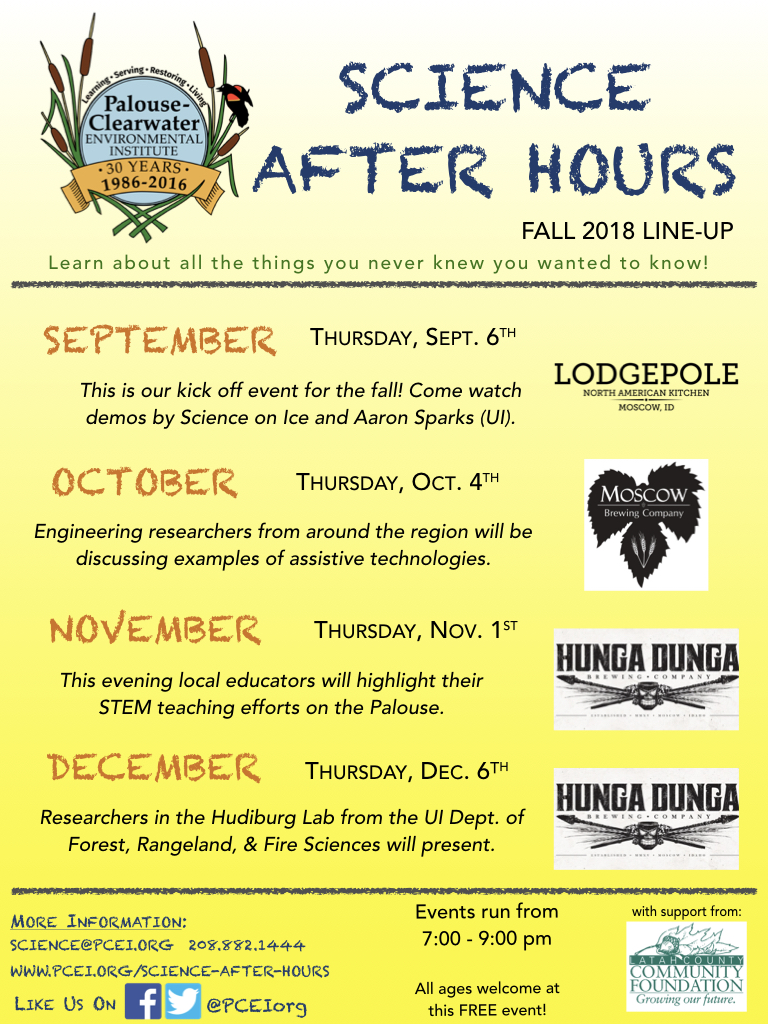 In Spring 2015, PCEI hosted its first series of Science After Hours  at various local businesses around Moscow. PCEI continues to offer this free program, which focuses on bringing professional research to the community in a casual atmosphere. Topics covered range from wine fermentation to plant sunscreen and everywhere in between.  Our speakers, themes, and locations rotate each month during the academic year (September-May). For more information, or if you are interested in presenting, please email science@pcei.org!