The Palouse-Clearwater Environmental Institute has an AmeriCorps program that currently serves communities all over the state of Idaho as well as the greater Portland region. Through 30 partnerships with schools, community-based organizations and government agencies, PCEI addresses critical environmental and equity issues in the areas of healthy watersheds, energy and resource conservation, environmental education and outreach, as well as sustainable community development.
National and Community Service programs meet critical needs in areas such as education, public safety, health and the environment through partnerships with public agencies, non-profits, faith-based and other local organizations.
Welcome to Our 2019-2020 Members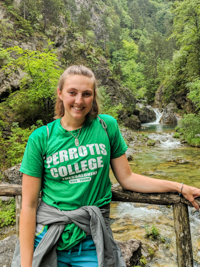 Augusta Catherin-Sauer (Volunteer Coordinator, Deer Flat National Wildlife Refuge)
Born and raised near the Frank Church Wilderness Area, Augusta (Gusty) has always had a passion for the great outdoors. Gusty loves getting outside on adventures with family and friends. She has spent the past five summers as a raft guide on the Salmon River of No Return, and aspires to be a livestock packer in one of the U.S.A.'s gorgeous national parks!  From an early age she was curious about natural science and environmental studies. During her undergraduate years near Amherst, MA Gusty became involved with grassroots community organizing. This led to an interest in organizing efforts to conserve and to responsibly manage our public lands. She is beyond thrilled to be the 2019-20 Volunteer Coordinator at Deer Flat National Wildlife Refuge.
Frances (Frankie) Curet (Assistant Program Coordinator, Palouse-Clearwater Environmental Institute)
Born on the Palouse and raised in the shadow of the Continental Divide in Salmon, Idaho, Frances, like many Idahoans is an outdoor enthusiast and is happiest when she's surrounded by nature. After completing a Rotary exchange in Brazil post high school, Curet found herself at the University of Idaho where she obtained a Bachelor's Degree in Horticulture & Urban Agriculture with a Field Crops minor. During her time at the U of I she fell in love with the vibrant Palouse community and is humbled by the opportunity to give back to the community that supported her through university. Frances is elated to be a part of the PCEI family. You will find her camping, bouldering, skiing, bike riding, snow shoveling, propagating plant starts and flower picking in her free time. She adores puppies and loves seeing them at the PCEI Nature Center.
Ashlee Fliney (Community Outreach Specialist, McCall Outdoor Science School)
Drawn to central Idaho for graduate school with the University of Idaho's McCall Outdoor Science School, Ashlee found the west to be the perfect place to live and continue her career in Environmental Education. She has worked with students for over a decade through coaching, tutoring, traditional classrooms, outdoor education, and counseling. Her professional background includes a B.S. in Biology which led to an internship as a zookeeper and many months of studying small mammals. She also received a M.S. in Natural Resources in 2015 with a Environmental Education certificate. Ashlee wanted to continue working outside with students so she traveled to different states learning new curriculum, observing different team-building styles, and gaining professional development in different areas of leadership, diversity, inclusion, and social-emotional learning. After spending some time teaching at The Outdoor School in Texas hill country and a few seasons of instructing for Naturebridge in Yosemite National Park, Ashlee found herself drawn back to central Idaho! Here she is able to work a job she loves and gets to play in one of the best natural playgrounds in the world! When she is not teaching kids in the great outdoors, Ashlee can be found reading a good book, hiking to an alpine lake, playing a pick-up game of basketball, eating way too much popcorn, or creating a scrapbook from a recent adventure! Cheers! Check out her instagram!
Kaitlyn Hanley (Environmental Educator, Deer Flat National Wildlife Refuge)
I spent my childhood in South Florida but found a passion for the outdoors on family vacations to the Adirondack Mountains in New York. There I fell in love with hiking, running and being in nature. I followed my passion via college at Georgia Southern University and then pursued my master's degree in biological sciences at Clemson University studying pikas in the Greater Yellowstone Ecosystem. This research infused a passion for the alpine, the big mountains of the Northern Rockies and environmental stewardship. The plight of pikas revolves around climate change and the entire alpine ecosystem is disappearing as our world warms. After my master's degree, I turned away from the science world and focused on environmental education as a venue to change the future of our world. I absolutely love every activity that gets me into the mountains, but mostly I spend my time running and enjoying the outdoor world. When I am not outside, I enjoy a good book, knitting or creating art.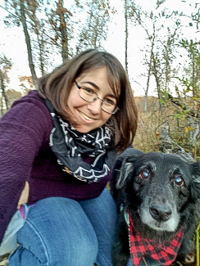 Nicole Hutcherson (Environmental Educator, Deer Flat National Wildlife Refuge)
Being raised in the Sonoran desert I grew up surrounded by cacti, beautiful skies, and a large close-knit family. My siblings and I spent our time out in the sun, exploring the bizarre desert environment, and cultivating a curiosity for the unique world around me. This along with role models such as Bill Nye, Steve Irwin, and Neil Degrasse Tyson helped to foster a love of science and nature that quickly grew into a fierce passion. I pursued an education in wildlife and biology in hopes that I too could make learning a fun exciting experience and help people love the creepier and less understood parts of nature. While most of my family stayed down in the desert I migrated up north with my fiance to Idaho the year after we both graduated from NAU. With my degree in biology I have participated in research involving bat populations, along with a stint in training education animals at private zoos down in Texas, and spent much of my time assisting in education programs through museums and nature reserves. Now a full-time resident in Idaho I've been exploring the new found world of snow and the green wilderness of the state since then! Which is what led me to the Deer Flat Refuge. After volunteering the last few years with the SEEDS and DWJ programs I'm excited to work on expanding and adding to the wonderful outreach programs that the refuge provides. Check out her blog here.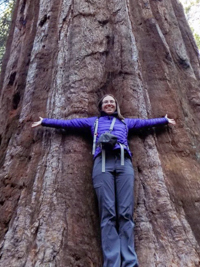 Emma Woodworth (Community Outreach Specialist, McCall Outdoor Science School)
Emma grew up in Minnesota and has been exploring the outdoors for as long as she can remember. Backpacking, canoeing, hiking, rafting, and sailing have all influenced her sense of place and stewardship within the natural world and her goal is to inspire others to have transformative experiences in nature. In addition to earning a Bachelor's in Biology and Environmental Studies at Whitman College and a Masters in Environmental Education and Science Communication at McCall Outdoor Science School, she has also worked at outdoor schools in California and Utah, scribed in a community medical clinic in Minnesota, studied willow restoration in Utah, and guided wilderness trips in Minnesota and the Rocky Mountains. She is excited to be serving an Americorps year as one of the Community Outreach Coordinators at McCall Outdoor Science School working to get kids engaging in local learning outdoors.