The Palouse-Clearwater Environmental Institute has an AmeriCorps program that currently serves communities all over the state of Idaho as well as the greater Portland region. Through 30 partnerships with schools, community-based organizations and government agencies, PCEI addresses critical environmental and equity issues in the areas of healthy watersheds, energy and resource conservation, environmental education and outreach, as well as sustainable community development.
National and Community Service programs meet critical needs in areas such as education, public safety, health and the environment through partnerships with public agencies, non-profits, faith-based and other local organizations.
Welcome to Our 2021-2022 Members!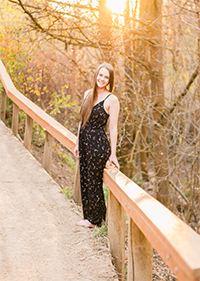 Devyn grew up exploring the rivers and mountains of Idaho, cultivating a passion for nature. She frequently engaged with the community as a Zoo Naturalist for Zoo Boise, as a volunteer teaching environmental education, and as a coach for Rise Volleyball Academy. She graduated from Boise State University, earning an undergraduate degree in Biology, and plans to pursue a graduate degree in Wildlife Biology and Conservation. Devyn is passionate about biodiversity conservation and is interested in how the effects of climate change disrupt interspecific relationships. She is excited to be working with PCEI as a Community Conservation Ambassador for Deer Flat National Wildlife Refuge, collaborating with the community she knows and loves to make nature accessible for everyone!
As an Idaho native, Dylan has always loved being outside enjoying the state's beautiful landscapes. Immediately after graduating from the University of Idaho with degrees in international studies and geography, Dylan attended the McCall Outdoor Science School (MOSS) to focus on building skills in environmental education and science communication. After graduating with her master's from MOSS, she quickly became passionate about place-based education and community involvement. Dylan loves camping, hiking, bike riding, and taking the time for growth. She is very excited to learn and apply more place-based education concepts in her position with the Valley County Extension Office this year.
Erica Jansen (Outreach & Community Engagement Assistant, Idaho Firewise)
Erica is serving as an AmeriCorps Community Outreach and Engagement Assistant for Idaho Firewise. This is Erica's second year serving with AmeriCorps, as last year she served with a different local environmental non-profit. Her work will focus on organizing fuel reduction events across the state, educating the public on the importance of being "Firewise" and the ecological benefits wildfire has on our landscape. Additionally, she will coordinate with the Idaho Conservation Corps on fuel reduction / fire mitigation projects across the state. In between she will be collaborating with the Palouse Land Trust on local projects and helping establish the Idaho Prescribed Fire Council.
A Wisconsin native, she earned her degree in Wildlife Ecology and Management from the University of Wisconsin – Stevens Point. Shortly after, she moved to the Palouse with her partner and has been enjoying all the recreational opportunities Idaho has to offer. Her favorite being hunting western big game. She didn't grow up where wildfire was a risk, but after being on the Palouse for just two years, she realizes the importance and the impact fire has. That being said, she is eager to learn more about wildfire mitigation and help folks protect their homes and the lands we love!
Zach Drake grew up in Maryland outside of Baltimore. As a kid, Zach spent a lot of time gardening and trying to find slugs, snails and snakes, or any creature that happened to be a reptile or amphibian, on the many walks he took with family members in the Patapsco and Patuxent River Valleys. Zach spent a lot of time volunteering for bio blitzes and environmental community programs as a teen, and later transitioned that into a bachelor's degree in Environmental Studies with a focus on policy in coastal Virginia. During this time, Zach worked with multiple environmental NGO teams as an intern, and as a volunteer in water quality research, restoration projects and citizen science programs. Zach took this passion for coastal environments and community action into several seasonal jobs, focusing on citizen science and community outreach. In recent years, Zach has earned his Master's in Environmental Education and Science Communication from the University of Idaho, focusing on place-based and community driven education for natural resources and conservation. Zach has recently completed his first AmeriCorps service term with PCEI as one of the lead K-12 Educators at the McCall Outdoor Science School, where he taught K-5th students in Valley County in outdoor science programming. Currently, Zach is serving his 2nd term with PCEI as a Community Outreach Specialist working with teachers in local schools throughout Valley County and delivering science content to K-5th grade classroom audiences.
Marcel Robicheaux (Outreach & Community Engagement Assistant, Palouse Land Trust)
Marcel Robicheaux wasn't always an adult. Years ago, he was a small child in a Pacific Northwest rainforest, getting dirty in the woods behind his house. Building forts, picking flowers, playing with bugs and exploring the forests were as important in Marcel's education as was struggling to learn his multiplication tables and failing to memorize orbital configurations. Today he holds a Bachelor's of Science in Microbiology and Organic Chemistry, though after university he never spent a day in a lab. Instead he taught outdoor education in Maine, led at-risk youth on wilderness therapy excursions in Utah, led wilderness trips in California, spawned and raised (early rearing) Chinook salmon and Steelhead in Idaho, taught high school chemistry on a remote atoll in the Pacific Ocean, taught English and Chemistry to at-risk youth in Huaraz, Peru, tutored college chemistry and biology students in Spokane, Washington, and spawned some more salmon in Idaho before finding his way to serving though AmeriCorps with the Palouse Land Trust and Idaho Firewise. Wow, that was a mouthful if you were reading out loud. You can probably tell by his long list of experiences that Marcel is older than the average AmeriCorps member, but what he lacks in youthful appearance he makes up for with experience, passion, an attempt at wit, and resolve to serve communities and give back to the undomesticated world. He is both honored and excited to serve human and other ecological communities by working with the Palouse Land Trust and Idaho Firewise. When he isn't trying to learn new information and get better at his job, Marcel can be found snorkeling in the Salmon and Clearwater rivers, getting dumped out of his tiny pack raft by a class 2 wave train, or biking or hiking in the more remote places of Idaho, Oregon, and Washington.
Arie Weidemaier ( Environmental Education Instructor & Restoration Technician, Foothills Learning Center)
Arie grew up in Anchorage, Alaska and spent his childhood camping, biking, hiking, and fishing. He developed an adoration of public lands and a passion for protecting the environment. At Boise State University, Arie majored in Environmental Studies and got minors in Biology and Sustainability. After graduation, he worked at Boise State's Sustainability Department where he focused on recycling outreach and education. The next summer, Arie helped run an outdoor education camp at Bogus Basin where he taught youth the principles of LNT, ecosystem ecology, and environmental stewardship. He looked to continue his work in environmental education and will now be working at the Foothills Learning Center. In his off time, Arie loves to hike, backpack, mountain or road bike, and play tennis.
Cameron is currently a student at Northern Kentucky University pursuing a degree in Integrative Studies. This includes focus areas in Environmental Studies, Photography and Journalism. While at school Cameron works as the Photo Editor for NKU's newspaper and is the Vice president of the Hiking Club. She has always had a passion for the outdoors which was started by going on camping trips with her parents as a child. Through this passion for the outdoors, Cameron also developed a love for photography. She hopes to work as a conservation photographer to help spread the importance of protecting the environment through photos. While she is new to the area, she is very excited to learn more about environmental conservation and education during her time at PCEI. When not taking pictures, Cameron enjoys hiking, kayaking, sewing and historical reenacting.
Visit the Confluence Environmental Center page to view members in Portland, OR.