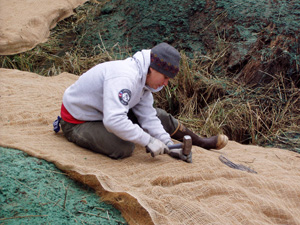 Do you have an unmet environmental need in your community and would you enjoy supervising an AmeriCorps member to meet that need? The Palouse-Clearwater Environmental Institute AmeriCorps Program seeks organizations that would like to host an AmeriCorps member to complete a project in the areas of environmental education and stewardship and on-the-ground restoration.
We are currently accepting applications from organizations located in Idaho that would like to host an AmeriCorps Member for the 2022-2023 service term. Click here for more information or contact Courtney Warner, PCEI AmeriCorps Program Director.  We are looking for organizations that will complete projects with their members that address unmet community needs in the areas of environmental education, stewardship, and restoration, and can adequately report on progress in those areas.
Please find the  2022-2023 Sponsor application here.
Selected Sponsors host AmeriCorps members
Recruited AmeriCorps members serve at least 1700 hours for full-time members. They are placed with schools, non-profit community-based organizations or government agencies to serve these hours.
Sponsoring agencies develop the project, recruit member(s) and provide daily guidance and supervision. Sponsoring agencies are selected through a competitive process based on their proposal for a placement that meets PCEI AmeriCorps' objectives and critical community needs.
Current sponsors include:
Boise Urban Garden School
Deer Flat National Wildlife Refuge
Foothills Learning Center
McCall Outdoor Science School
Morrison Knudsen Nature Center
Palouse-Clearwater Environmental Institute